Custom Fine Jewelry Tells Your Story
At Metal Art Studio, we specialize in custom jewelry design. Whether it's engagement & wedding rings, or a gift for a special occasion, we understand when it has to be made especially for you. We love blending our design skills with your inspiration to create jewelry to suit your specific style and taste. When you work with us on a custom design, the result is an extremely personal piece that celebrates you, through and through. We design the pieces that tell your story.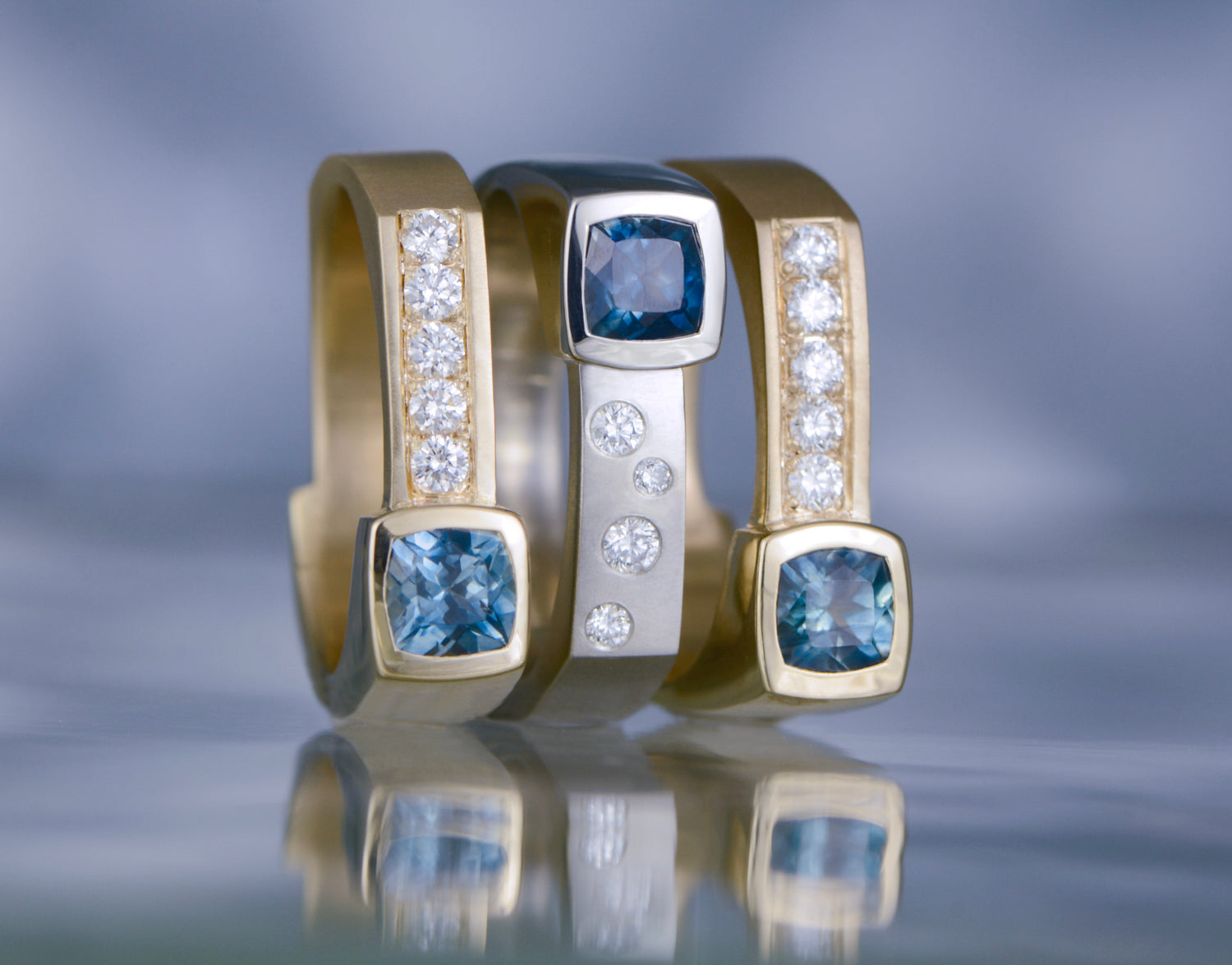 The Gift of Custom Jewelry
Designing custom jewelry is one of the most meaningful things you could do for a loved one. There is no gift as special as one designed and made exclusively for you. They will feel seen, understood, and appreciated every time they wear it.
Whether we're crafting your engagement ring, wedding ring, celebrating a milestone, or helping to express your gratitude, custom jewelry from Metal Art Studio will translate your feelings into something precious to serve as a constant reminder of your love. Ring, earrings, bracelet, or necklace, be assured it will be a cherished possession.
Custom Jewelry Design Process
Are you wondering about custom design and how it happens? Here's the process. This process can be more or fewer steps depending on the detail of your project.
1. Initial Appointment: Let's Brainstorm!

Come in to discuss your project. Sometimes, we have time to consult with you if you just walk in, but we can promise our undivided attention if you make an appointment (call or email us to set up a time). 

Bring your ideas (no worries if you don't have any—we have plenty!) and materials you might want us to use (gold, gems, diamonds). Together, we'll look through our cases for inspiration, and look at images of things you like. 

We'll also talk about diamonds and/or gemstones needed for your piece so we can order in options for you.

It usually takes 30 minutes to an hour with a lot of scribbling, drawing, and note taking to communicate our ideas.

2. Second Appointment: Gems, Diamonds, & Design

If we ordered in diamonds or gemstones for you to see, this is when we'll take time to look at them, talk about them, and choose the perfect stone for your new piece.

Once we feel we have a thorough understanding of what you're looking for (and have the gems picked out), we will begin the design process. Your jeweler will draft a page of designs to show you at the next meeting, usually within two weeks.

3. Third Appointment: Choose the Design You Love Most!

This is a fun appointment because it's when you start to see the idea blossom. When you make your selection, we'll put together an estimate of the cost to create it. A deposit (roughly half) gets your design in line in the jeweler's box, and it takes about 8 weeks to complete.

4. Pick up Day: It's Ready!

We'll email or call you as soon as your new piece is finished and ready to go home. When you come in to pick it up, we'll make sure the fit and all other details are perfect before you leave. Pay the balance and take it somewhere special—perhaps lunch or a night on the town?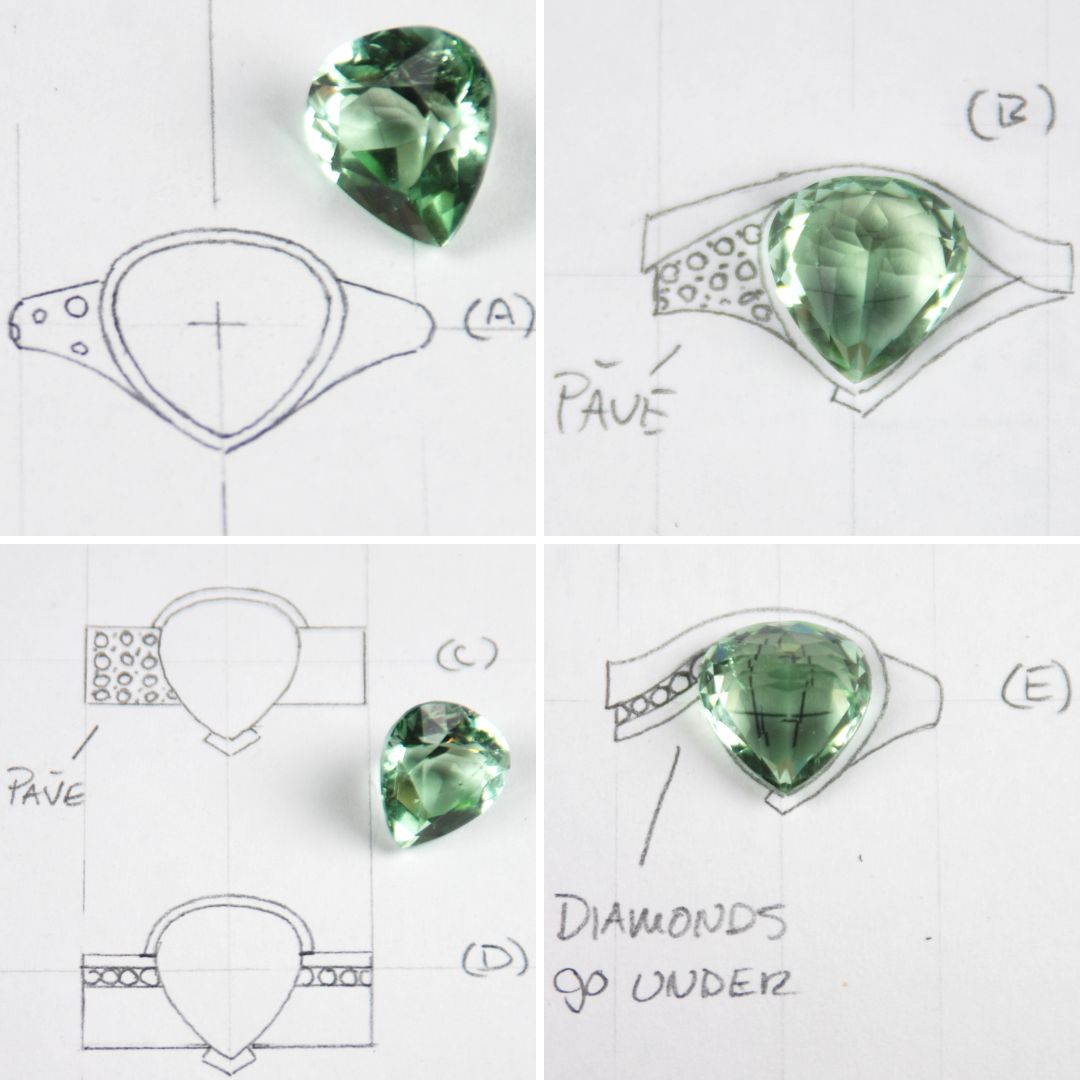 Jewelry Redesign
Do you have fine jewelry that just doesn't fit your style, or maybe family jewelry that you want remade for an engagement or wedding ring? Our designers can modify it or redesign it. Sometimes, a small tweak is all it takes to make an heirloom feel more like you, or rethinking the design is the best option to bring it back to life. We will reuse as much of your material as possible to make something brand new that still connects you to your past.
Magnificent Materials 
The jewelry we make here at Metal Art Studio is made from all karats (and colors) of gold and platinum. We use recycled metals whether we're supplying refined casting grain or reusing your gold.
In addition to classics like diamonds (mined and lab-created), moissanite, pearls, rubies, sapphires, and emeralds, we love working with a multitude of other gems (mined and lab-created) which are every bit as fabulous and less common. We're also obsessed with unconventional versions of the classics, like:
- Salt & pepper diamonds
- Raw diamonds
- Black diamonds
- Unusual color sapphires
- Baroque pearls
- Bi-colored tanzanite
- All the gemstone cuts including faceted, cabochon, slices, raw, rose-cut, rough-cut
- And more! There are too many to list.
Look through our custom section for some ideas, or stop in to talk about options. The gems we supply are traced and conflict free.
Custom Jewelers Crafting Keepsakes
While each of the jewelers on the Metal Art Studio team was drawn to the art of jewelry making for different reasons, we universally agree that the excitement we feel when a customer sees their finished jewelry piece is a huge reason we adore this craft. The joy of delivering a creation you were inspired to bring to fruition is a gift to us, as is knowing our handmade pieces will be a part of your story for years to come.
At Metal Art Studio, each of our jewelers has an inimitable perspective in design and a fervid passion for creating awe-inspiring pieces, ensuring your jewelry will be distinctly, wonderfully you, illustrating your style from the moment it is seen.
Custom Pieces We've Designed
Take a look at some of our favorite handcrafted, customized creations.
FAQs
Do I Need to Make an Appointment for a Consultation?

Customers may come into our studio any time—we are open 10AM–5PM Tuesday–Thursday, 10AM-6PM Friday and 11AM-3PM Saturday. However, if you make an appointment, or give us a heads-up on your arrival, we can make sure we have a jeweler prepared to focus on your ideas and dive into the creative process with you.
Do You Do Custom Jewelry Consultations Online or on the Phone?

We are people-people, so our first choice is always to be in person with you, followed by email, and lastly, by phone. The visual nature of what we do works best when we can point, draw, and see our customers' responses to what we're envisioning and creating. Email tends to work if we send a lot of images back and forth. If we can't meet in person, we will sometimes use FaceTime to get a better sense of what you prefer.
What Should I Bring to the Initial Consultation?

Bring your opinions! We want to know what you love and what you don't like. If you have jewelry you want us to rework or redesign, please bring it along. The process of your design will be more efficient if you've collected images of things you like, either printed or on your phone.
How Long Will My Custom Jewelry Piece Take?

We book most jobs for eight weeks from when we receive your deposit. A deposit of half down means your piece is in line in our jeweler's box. The exact wait time will vary depending on the jobs your jeweler has lined up.
How Much Does Custom Jewelry Cost?

The cost of your custom jewelry depends on a variety of factors, including the metals and gems chosen as well as the intricacy of your design. Our in-house jewelers will give you a free estimate before physically creating your handcrafted piece. We will certainly ensure we are on the same page financially before we get too far into the process. Once we get your design finalized, we can get down to the exact details of an estimate. For a more specific example, an average budget for a custom made ring in 14K gold is $2500, plus gems.
Can Customers Choose Which Jeweler They Work With?

Yes! Like you, our jewelers have their own unique style. It's important you feel comfortable and connect with your jeweler as you create together.  
Choosing a selection results in a full page refresh.