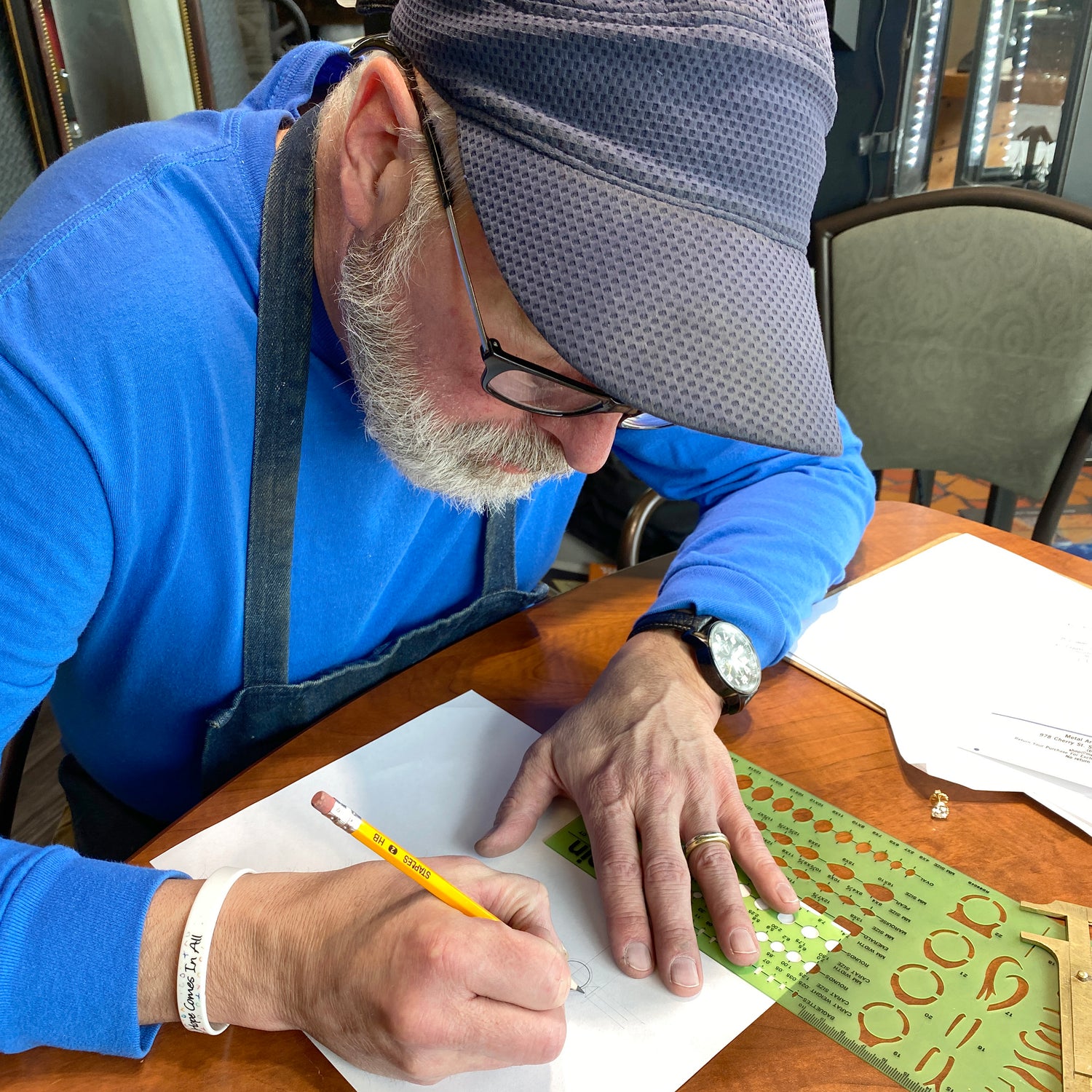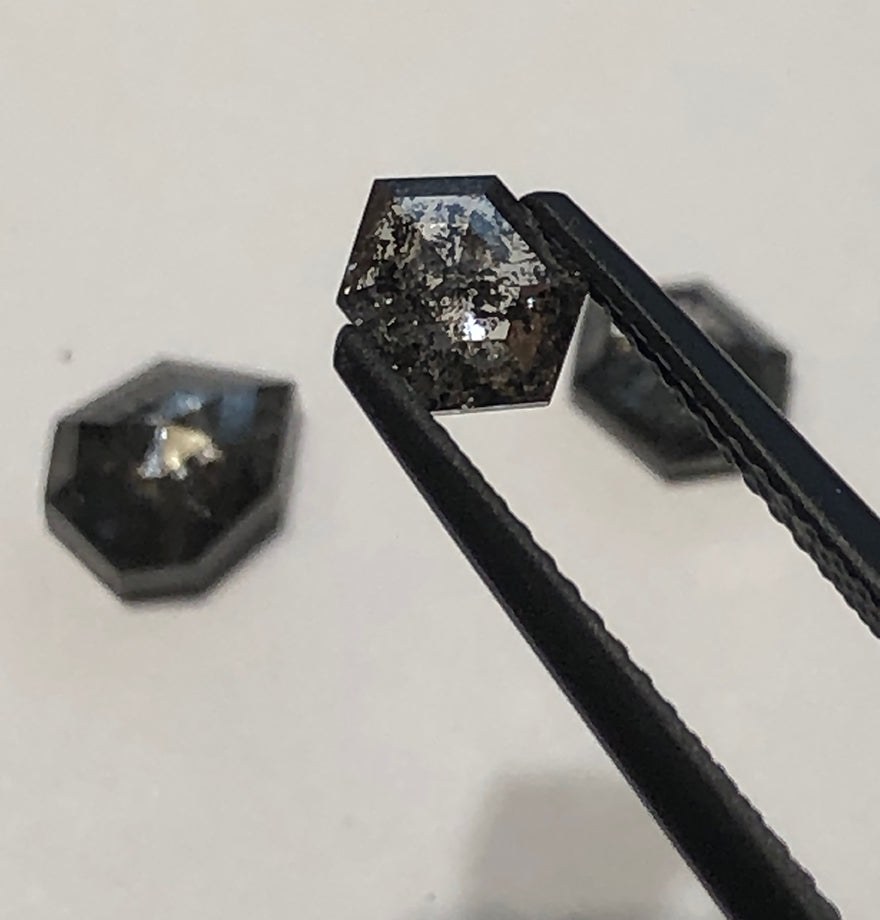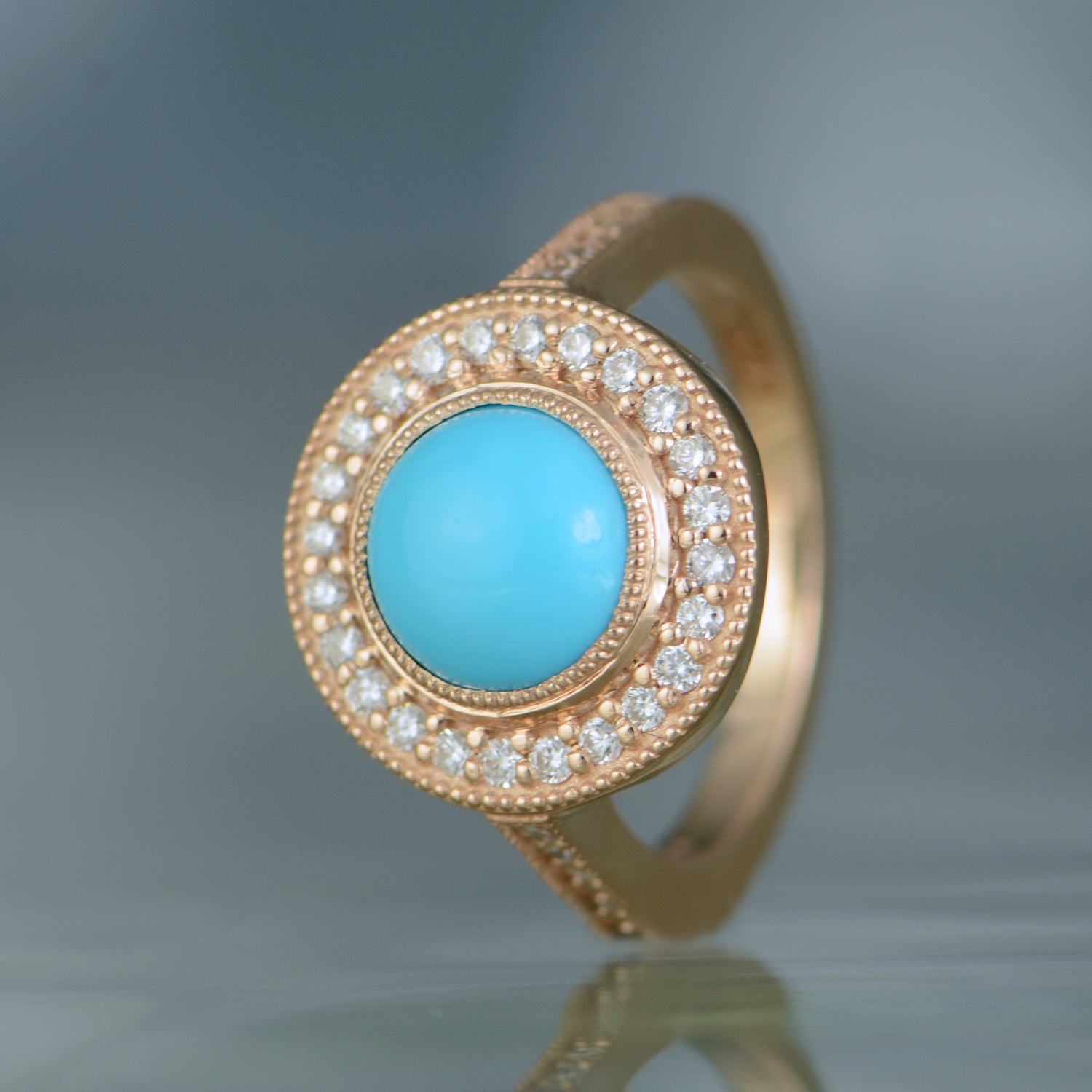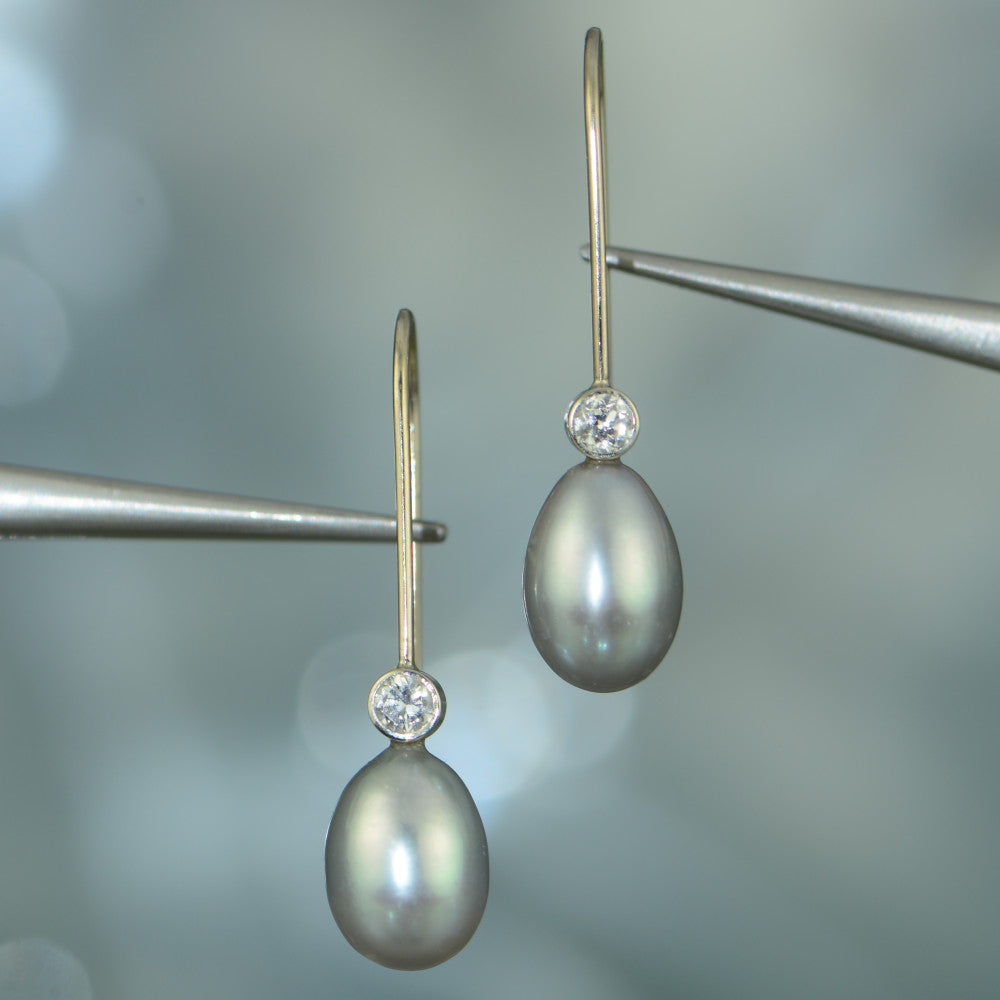 Est. 1990
Metal Art Studio was founded in 1990 by newlyweds Scott Carey and Carol Wagen. Scott had been working in a trade shop since the mid-80s and was eager to find a more creative outlet for his many design ideas. Scott and Carol were eager to start their own business together—Carol had even named and designed the logo before their wedding! In the span of one year, the two got married, bought their first house, and started Metal Art Studio in a spare room.
Today, more than 30 years later, the Metal Art Studio team consists of Carol, Scott, Molly, Amy, and Madeline—and Sparkles the dog, of course. For decades, Metal Art Studio has been proud to bring high-quality, fair-trade, handcrafted fine jewelry to Grand Rapids and the greater West Michigan community.
Scott
Scott has been a jeweler since he was in college for graphic design in the mid-eighties. He learned the ins and outs of jewelry-making through an apprenticeship where he worked next to three experienced jewelers, absorbing every technique and trick he could. Today, Scott's designs tend to be clean and modern with a Scandinavian influence. He also likes organic designs and, when working on a custom piece, is happy to design in the style the customer likes best.
Favorite piece or design: That's not fair, you're asking me to choose my favorite child! I guess my favorite piece is usually the last piece I made because the smile on the customer's face makes me really happy, and the feeling stays with me. I tend to be the most proud of the jobs that are really complicated. This year I made a "Mosaic" ring with green gems of different shades, shapes and sizes. It was extremely difficult and technical. She was thrilled, and I was proud. I still am, and I still have the original drawing on my bench. I love the whole Mosaic Collection because no two pieces are the same. I also love my Column Prong rings, my Organics Collection, and I'm proud of the pieces in my Personal Architecture Collection.
Favorite thing about working at Metal Art Studio: I love making things for people, seeing how happy it makes them, or repairing an heirloom that's really precious to them. It makes them really happy, and I know it's solid because it's done right.
Fun fact: During my apprenticeship in the 80s, an older Latvian man sat at the bench next to mine. Alex was grumpy, didn't like to talk, and refused to answer questions from a young punk like me. His leg had been injured in the war fighting the Soviets, and he had a hard time getting around. He loved Coke, but the machine was one floor up in the building. One day I brought in a jar full of quarters and placed it next to the tools between us. I told him I would go get him an ice cold Coke whenever he wanted, he just had to answer my questions. It took him three stubborn weeks before he finally said, "Go get me a Coke." I learned a lot from that man, about history and jewelry making. I think I asked him more questions about his life than I did about jewelry.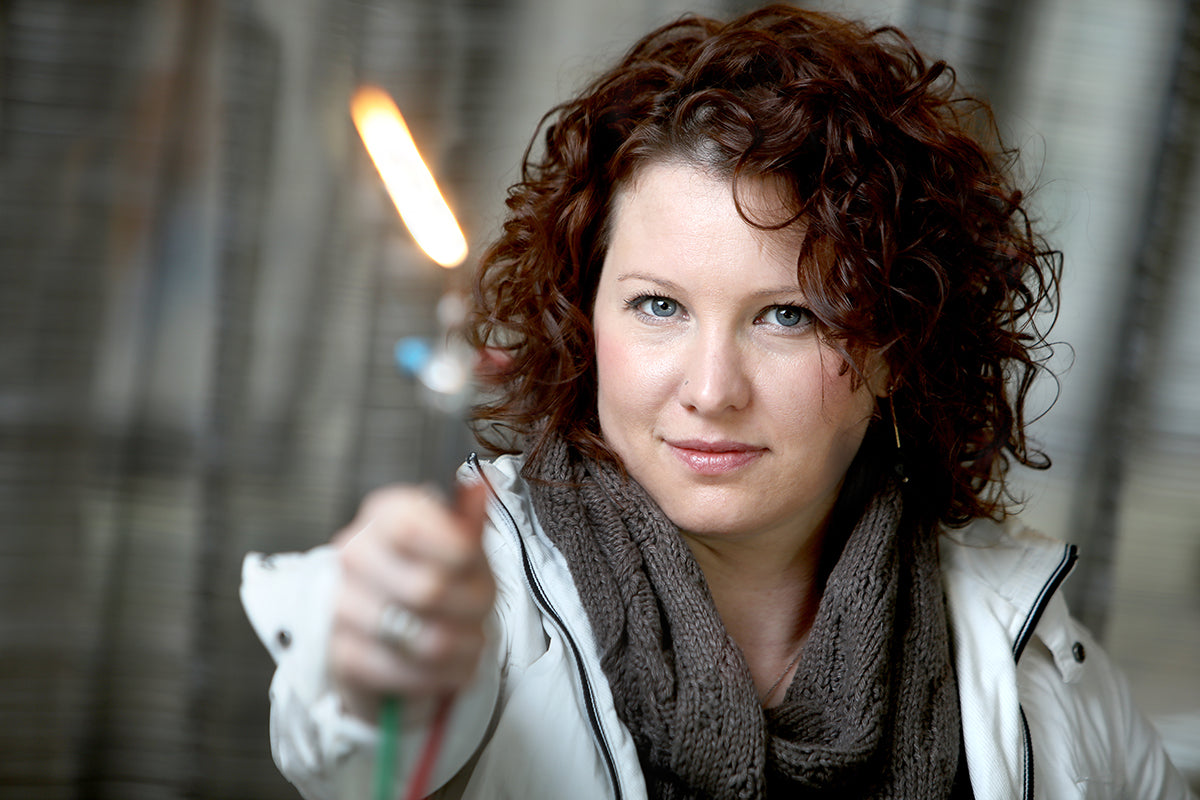 Molly
Molly first fell in love with jewelry, after high school graduation, when she began taking adult education courses at Kendall College of Art & Design. She pursued a degree in cosmetology, but her love for jewelry continued to grow! Molly discovered Metal Art Studio and was inspired by their work and wondered what it would take to create jewelry like them. She visited and was advised that she needed more schooling. In 2008, after completing her Graduate Bench Jeweler degree at New Approach School for Jewelers, Molly returned to Metal Art Studio and began her full-time career designing and creating jewelry. Today, Molly loves creating both modern and retro designs.
Favorite piece or design: I love my Skyscraper ring because it's curvy and dramatic. My Laurel ring is almost the opposite - soft, organic, and the main gemstone sits down into the ring.
Favorite thing about working at Metal Art Studio: I love having the freedom to design different and new things for people who appreciate the art of jewelry.
Fun fact: I enjoy traveling and camping with my husband and two children.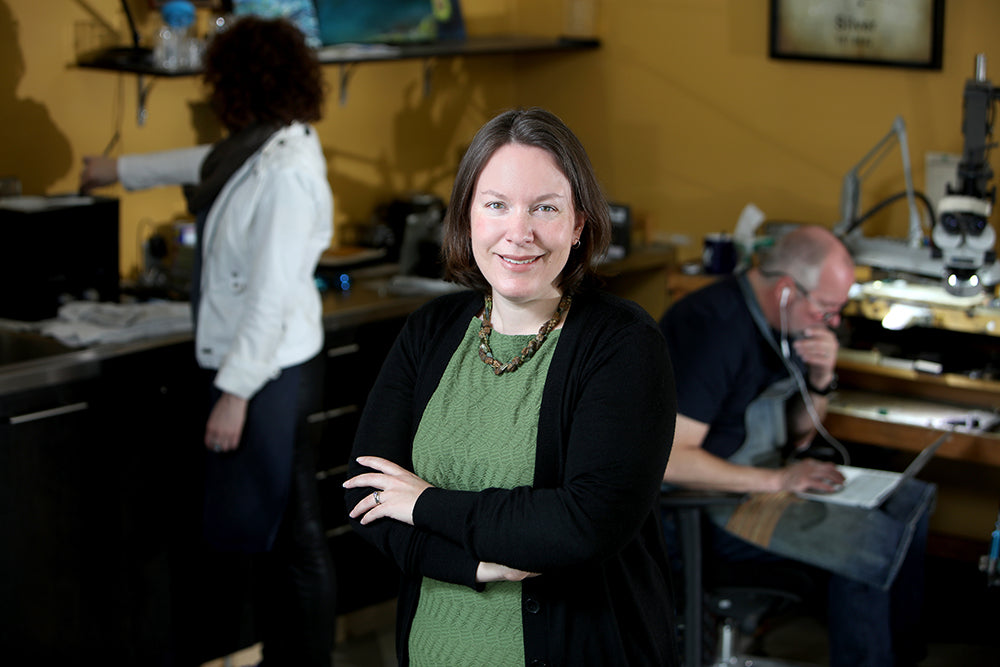 Amy
Amy has eight years of experience in the fine jewelry industry and has worked at Metal Art Studio all those years. She has a bachelor of arts in communication from Michigan State University.
Favorite piece of jewelry: I love our 22k yellow gold hammered disk collection and have a pair of triple disk earrings that I wear frequently.
Favorite thing about working at Metal Art Studio: One of my favorite things is seeing how excited our customers are when they pick up their custom projects. Whether it is a piece they had made for themselves or a gift for someone else, it's so great to see the joy when they see the finished project. 
Fun fact: I tap dance. I danced from age 6 to 18 and then started again as an adult. I've been dancing for eight years as an adult.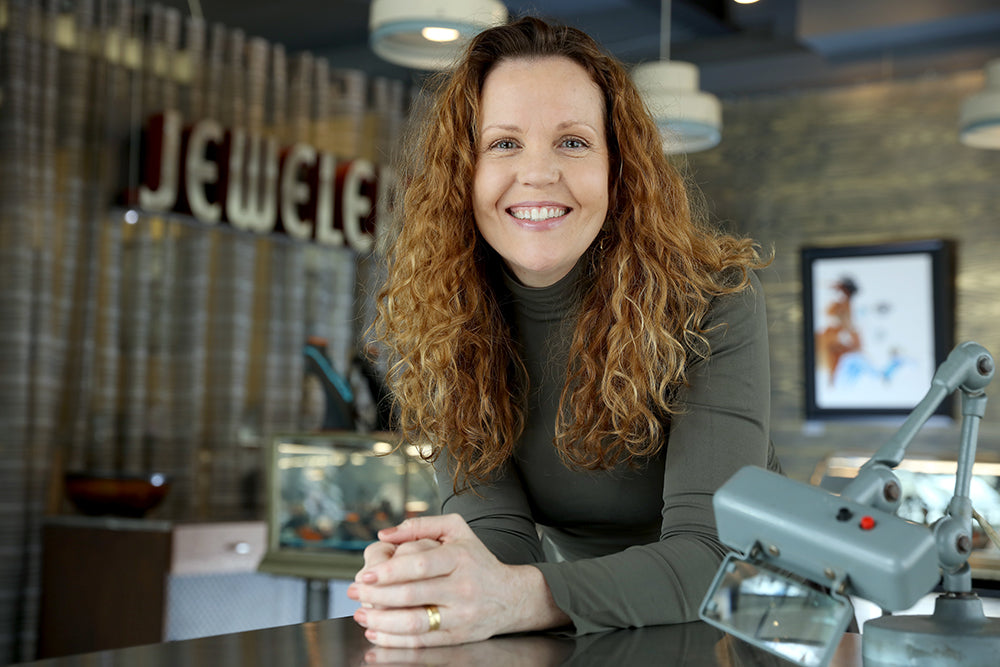 Carol
Carol started Metal Art Studio with Scott back in 1990 and has 30+ years of experience in the fine jewelry industry. She has a bachelor of arts in advertising with a minor in business from Kendall College.
Favorite design style: I like clean, modern, bold designs. I like large cabochon gem rings as well as thick chunky rings. Black diamonds are so easy to wear and they look great with everything. I love the look of metal with a matte finish. 
Favorite piece of jewelry: I have a primitive link bracelet Scott made me for my 50th birthday, and I wear it every single day. I also have a favorite pair of ruby earrings by Lika Behar I bought to celebrate when I negotiated the lease for our Cherry Street location. The red rubies remind me of cherries, and I'm thrilled to have one of Lika's special pieces. I love the 22K Hammered Disk Collection because I'm obsessed with yellow gold.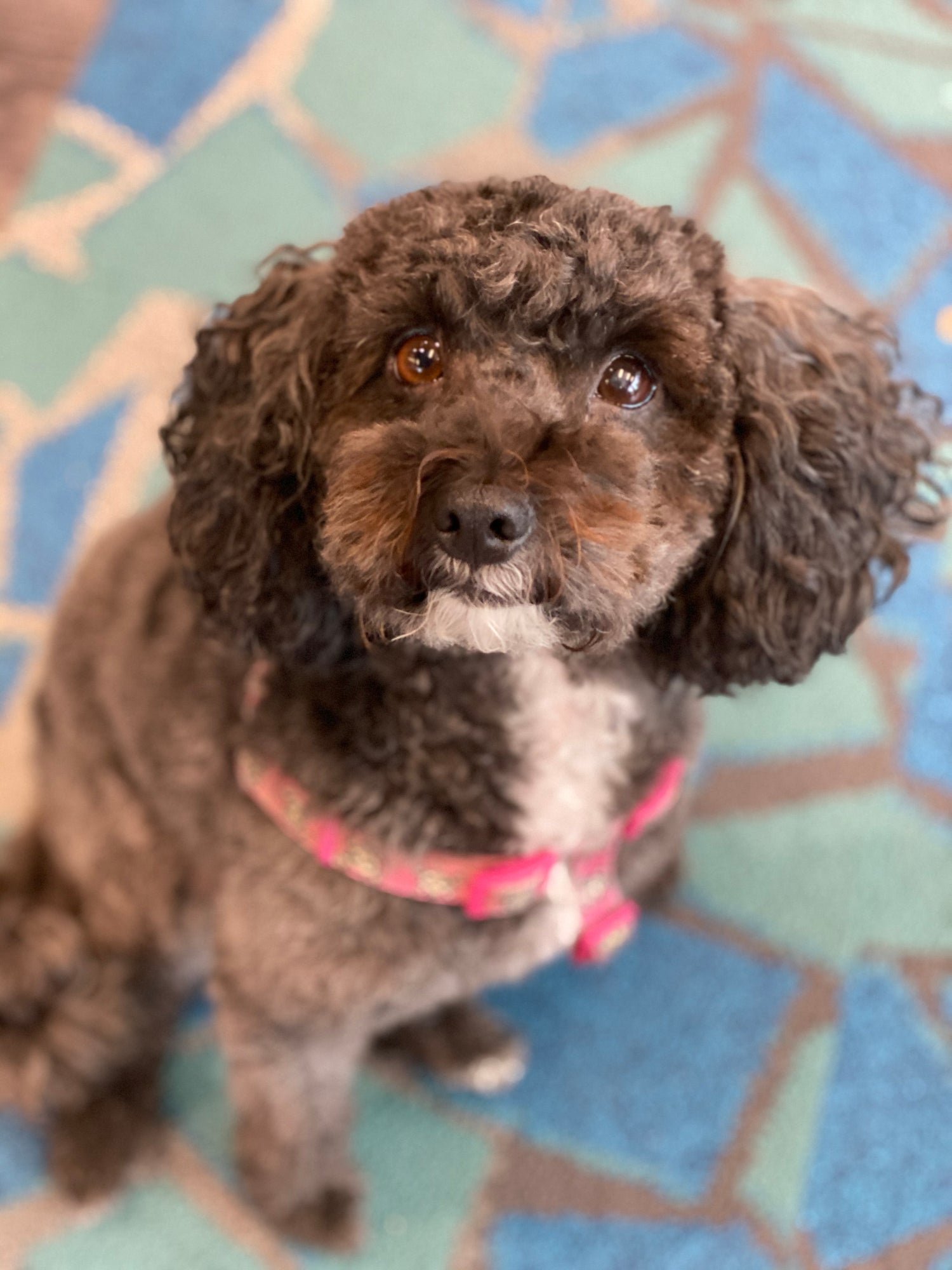 Sparkles
Sparkles is a seven-year-old miniature poodle (we think) who joined the Metal Art Studio team in the fall of 2018. She was picked up as a stray in Detroit in July of 2018 and adopted by Amy in September from a local rescue. These days, Sparkles splits her time between sleeping in the office and hanging out at the front of the store greeting guests, alerting the team to passing dogs, and collecting treats from delivery people.
Favorite type of jewelry: Sparkles like black diamonds best. They always sparkle, even on her dark fur!
Fun fact: It's not exactly a fun fact, but when Sparkles was rescued, she had very matted fur and injuries that indicated she may have been hit by a car. She had surgery on her hip, but it healed with a lot of scar tissue, so while Sparkles has four legs, she only walks on three. She is not in any pain and it certainly doesn't slow her down when she races around the store upon arriving in the morning!
Choosing a selection results in a full page refresh.